Fulvio Bianconi Venini Murano Italy Two fazzoletto bowls
1950s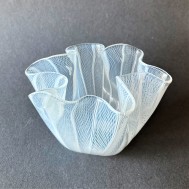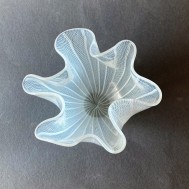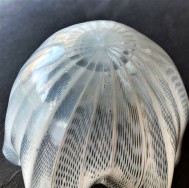 Obj no. 3987 and 3988

Fulvio Bianconi, Venini

Two fazzoletto bowls designed by Fulvio Bianconi for Venini glassworks in Murano, Italy in 1950s.

Signed: 3987: Yellow and white bowl has an eached signature: Venini Italia (pic. 4)
3988: White bowl is not signed.

Condition: Both bowls are in In very fine condition.

Max height: 3987 yellow and white: 6.0 cm (2.4")
3988 white: 7.5 cm (3.0")
Max width: 3987 yellow and white: 8.0 cm (3.1")
3988 white: 10.0 cm (3.9")
Weight: 3987: 0.07 kg and 3988: 0.10 kg

Price: 850 SEK/each
Price for the two: 1 500 SEK